Who was Salvatore Barravecchia?

Salvatore and his parents were from Tusa, Sicily, a small town outside of Palermo. According to customs records, his father Frank Paul Barravecchia came to America while his mother was pregnant with Salvatore. Frank Paul returned to Sicily once or twice to visit his first child Salvatore after his birth, with the majority of his time spent in America trying to establish a better life for his new family. In 1920 at the age of 11, Salvatore immigrated to America with his mother and was reunited with his father Frank Paul Barravecchia. They made their home in Westerly, Rhode Island, Wahington County.

As the story was told by Frank, his son , Salvatore was unable to attend high school as it was difficult due to his age and his language handicap. Instead, he took advantage of his artistic talents and studied art techniques of the masters, while working to help support the family and learn English. "According to his discharge papers he was grade tech 5 in Battery A 553d Antiaircraft Artillery (AW) Battalion and served in battles and campaigns in Normandy, Northern France, Rhineland and had 3 Service Stars and The American Defense Medal. Salvatore studied design which he incorporated into his craftsmanship as a designer tailor of men's and women's clothing."

Somewhere between late 1940 and early 1941, Salvatore received a letter from Mussolini to report to the motherland for military duty. Salvatore was proud to now be an American and instead enlisted in the United States army at the age of 32, on the 21st of February 1941 at the Hartford Connecticut Induction Center. Salvatore told me stories about tailoring uniforms for soldiers of all ranks including generals while in the army, and of sewing in the barracks at night time. His military occupational specialty and number was Tailor 234.Salvatore Barravecchia was accomplished as an artist in styles of pencil, charcoal, oil painting capturing images of landscapes and people. He was also an incredible harmonica player and was able to keep spirits up during the war by playing tunes.

One of his great charcoal works is in Maastricht, Netherlands- a mural painted by candlelight for the Ninth Army soldiers' midnight mass of 1944.After the war he returned to America to marry the love of his life Madeline, and worked in Manhattan, New York as a custom tailor and later moved to Connecticut to open his own shop. He had three children, Mary Natalie, Frank Paul and Ursula Marie. Frank has a daughter ( Haley) and Ursula has two boys ( Jonathan and Benjamin) but unfortunately Salvatore never saw any of his grandchildren. He continued to tailor until the day he was diagnosed with cancer. Three months after his diagnosis, he died at the age of 74. Salvatore was so proud to be an American, and always had a twinkle in his eye.
The Mural by Sal Barravecchia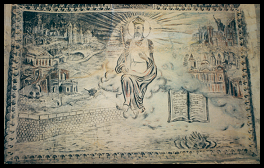 The drawing itself is about 4 meters long and 2 meters high.
Next to the drawing, on the right side, there is a profile drawing of Salvatore, together with his name and the date: November 25th 1944. Under his name are the names of both his daughters, Ursula and Mary and the grandsons Jonathan and Benjamin. Above his profile you see the names of Frank, his son, and of Frank's daughter, Haley, so the family is together.
Frank, together with his daughter, and with some members of the SHAK group, studied the drawing and some striking things popped up.
In the top right hand corner the statue of Liberty rises above everything, like a guardian of the peace. On the top left hand top corner, above the skyline of the city of Maastricht, ( a.o. the Saint Servaas Basilica ) he drew a plane, a so called Liberator. Nothing special, be it that behind the plane you can see the Maastricht flag ( red and white), the flag of the liberated city. In the left hand bottom corner soldiers are shown , behind their guns ( Anti aircraft Artillery), ,Salvatore belonged to, Headquarters Battery 55th AAA group, 9th Army)), again as guardians of the peace. In the middle of the drawing, there is a large ( king)figure, with beams from his crown to all sides. And also this person ( Jesus Christ) is a personification of peace.

At the bottom of the drawing, in the middle, Salvatore drew an opened book, with a striking detail. The year contains only three figures: 194.. because Salvatore could not know when the war would be finished. The drawing itself is not only a drawing, but Salvatore also created a kind of die-stamp printing for which he used somthing like a broad knife or something else. Particularly in the "frame" he showed us how carefully he worked on it. Even in the beams from the king's crown he used the same technique. Comparing the drawing with a picture from the White House, as his granddaughter Haley showed us, made clear how well Salvatore knew the details in his memory. He had a photographic memory. To prevent damage glass is put in front of the drawing. This drawing and the names of the American soldiers on the opposite wall, who were present at the Christmas Eve celebration, are witnesses of a moment in the war, when, in spite of everything, Christmas and the special feeling it brings us, were there. And from letters, written by some soldiers to their mother , the day after, it is clear that more or less they all had that "Christmas at home' idea.
(December 2nd 2016 his son Frank and Frank's daughter Haley visited Maastricht and in particular, the Schark cave, where his father and her grandfather attended Mass in 1944.
Both had neither seen this cave, nor the drawing made by Salvatore.)
Hieronder treft u verschillende verhalen en interviews aan:
Allan English - Letter to his mother, December 25, 1944
Joseph Gorman - Letter to his mother, December 28, 1944
Anonymous - Eyewitness report, December 24, 1944
Br Aloysio van de Broek - Speech, December 24, 1944
Br Lucianus - Interview, December 22, 1944
Brief Alan English, August 29, 1995
Brief Alan English, March 16, 1998
Robert Wisler - Letter to SHAK 1944, Christmas 2012
John Cesar - Interview Cleveland Paper, December 20, 2012
Namen op de muur
Op de lijst ziet u de (leesbare) namen op de wand. Wij zijn nog steeds op zoek naar meer namen. Als u meer informatie over deze namen heeft of er ontbreken nog namen, dan kunt u dit doorgeven via onderstaand formulier.
Form by ChronoForms - ChronoEngine.com